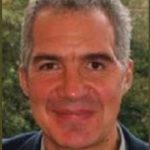 Why did you want to be a homeopathic doctor?
I got ill soon after medical school and after being failed by my own field, medicine, looked elsewhere. It was called Fringe medicine back then and made as much, or more sense than what I was practicing. I retrained eventually in homeopathy then herbalism and healing. I was in time for the surge in popularity in the late 90's when was running a big clinic from which I learned that I do not enjoy the limelight or being the boss.
What do you enjoy about it?
It teaches you the truth, really. What a wonderful job side effect. Medicine has become degraded; it's a big industry and an unclean one. This is a way of keeping on track. Having a positive impact and also some great chats with my patients make it enviable work.
What do you like to do in your spare time?
Nature and music. Singing, especially acapella. The closer the harmony the better. I used to play jazz drums but like most drummers, gave up. Now it's learning jazz piano, which is something that will see me out I think! Wild swimming, campervanning, that kind of nature.
What do you enjoy about being part of the Maris team?
I love the feel at the Maris. I come in earlier than needed sometimes just to go through cases or answer emails. The top and front of the Maris team are the two key roles and to have them filled by special people as we do creates a strong good effect.