Osteopathy is an excellent treatment for many problems affecting the musculoskeletal system. It is a modern form of medicine based on the fundamental principle that imbalances within our body's structure will disturb its proper functioning and that our bodies have an inbuilt capacity to self-regulate and self-heal. Sometimes we need a helping hand to assist that inbuilt response – that is where osteopathic treatment can help.
An osteopath's skill lies in their highly trained ability to observe the body's lack of balance and to feel tensions, whether in the spine, the joints, or within the delicate balance of the cranium.
Osteopaths use a variety of gentle manual techniques to release tensions throughout the body to help restore harmony and relieve pain and thus allow the body's own "internal physician" to help restore balance and health.
The Maris Practice also offers osteopathy in the cranial field for babies (often referred to as cranial osteopathy), which some mothers find very helpful with improving feeding and digestive problems and may be of particular benefit following a tongue-tie release.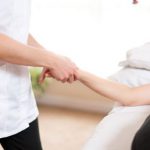 We are members of: