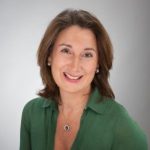 Why did you want to be a nutritional therapist?
I became fascinated about nutrition when I personally experienced the healing powers of food on health. I realised that one size doesn't fit all. That was turning point in my interest. I suddenly wanted to show and help others that they too could support their own health by eating the foods suited to them as an individual.
What do you enjoy most about it?
Oh the list is endless…
Changing people's lives by giving them the control of what they eat.
Seeing people regain their energy and that 'umph' to enjoy life, feel great and feel confident about themselves.
I get a buzz out of getting to the bottom of a health issue.
Creating recipes, so clients leave my clinic excited to eat and socialise rather than having a feeling that they have to give up all their favourite treats.
What do you like to do in your spare time?
My absolute passion is water-skiing! Otherwise, I enjoy just being outdoors, hiking or walking in the countryside and dancing! But mostly my biggest joy is my son.
Why do you like being part of the Maris team?
As one of the newer practitioners here, I feel that there is a genuine feeling of collaboration and a focus on client care, we are all on the same page. There are so many different layers to healing and approaching a health concern; At the Maris clinic there is a wealth of expertise and complimentary skills to draw on.
A truly welcoming environment!